WEDNESDAY 28TH NOVEMBER 2007
A short briefing regarding non-communicable diseases was given by PPKP Cik Haslinda.
She explained that the non-communicable diseases covered by Pejabat Kesihatan Daerah Baling included diabetes, hypertension, cardiovascular diseases, family violence and others.
The Baling district is the pioneer for Blindness Programme ( Program Kebutaan). Another clinic set up by this district is "Quit Smoking" clinic.
PROSTAR is another branch of service provided by the district health office. It encompasses "Program Sihat untuk Remaja" . In this programme, teenagers between ages 13 to 25 years are educated and exposed to various health hazards such as obesity and diabetes, and are also introduced to healthy diet.
Finally, we were also informed of the yearly carnival that is held for 2 to 3 days long. This carnival includes a health campaign, blood screening, counseling and educational exhibitions. Its aim is to expose the public for primary prevention of diseases.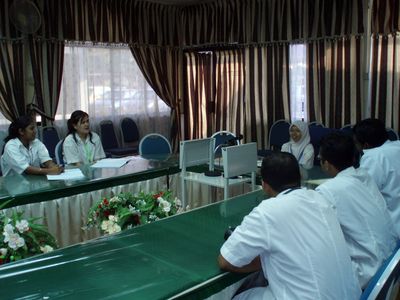 This photo showed us being brief of Non-Communicable Disease of Control (NCDC) by PPKP Cik Haslinda. At the same time, PROSTAR is also been introduced to us.
By Cheah Boon Eu, Source from aimstdho.blogspot.com
Related Posts: