Sunday, July 27, 2008
Reported at the district health office at 9am and we were welcomed by Mr. Musarrahad the Assistant Health and Environment Officer of the Food Safety and Quality Control Unit and subsequently briefed us on the general workings of the district health office. We had a general overview of the demographic details of the locality and the structural unit of the office and their respective responsibilities.
Padang Terap is the one of the biggest district in state of Kedah with total size of 1300 km2 with total population of about 68,768 peoples. The health office of the district situated at Kuala Nerang approximately 35km from North Alor Setar toll exit.
There is 1070 staffs of various ranks working in the District Health Office, headed by its respectable district health officer Dr.Latifah. There is
1)HOSPITAL KUALA NERANG
2)4 health clinic KLINIK KESIHATAN LUBUK MERBAU
– KLINIK KESIHATAN KUALA NERANG
– KLINIK KESIHATAN NAKA
– KINIK KESIHATAN BANDAR KUALA NERANG aka. HOSP K.NERANG,
3)16 "KLINIK DESA" under the administrative umbrella of Padang Terap District health office.
The ratio of health clinic to the population is, 1:22,922 while the ratio of "KLINIK DESA" to the population is 1:4298.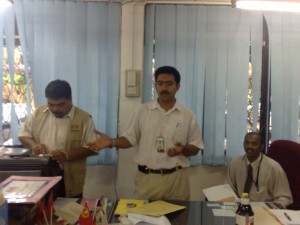 Soon after the general briefing, Mr.Pregas Rathnam the Assistant Health and Environment Officer of the Food Safety and Quality Control Unit (Unit Keselamatan & Kualiti Makanan) commenced briefing on the workings and organization of the unit. He explained to us the responsibilities and protocols undertaken by the unit to control the safety and quality of food in this district.
Their responsibilities governed are:
Food safety and toxicology control
food contamination control program, eradication and control of Aflatoxin in food
Food sampling
Food premises inspection
Closure of food premises
Food seizing and to destroy if necessary
Food poisoning investigation and control
Issuance of license to bottled water manufacturer
Imported food control
Exported food control
issuance of "Health Certificate"
Prosecutions and legal proceedings
Industry and consumer education
Laboratory services support
We were assured that we will be called to join a field work soon……….
We thank them a lot for their kind and considerate cooperation.
by tHE_ScORpiON@KarTHI Source from aimstdhob7.blogspot.com
Related Posts: