Our day started with meeting with Sister Busroh in KKIA Sungai Petani (Near HSBC bank near the clock tower in town).
She is in charge of school health i.e. giving vaccinations, physical examination for students, health talks etc.. Unfortunately, we were not able to visit any schools to observe students being vaccinated which will be further rescheduled.
We then gathered at KKIA Bandar SP which is the Maternal Child Health Clinic in our DHO itself. We had a short briefing by Staff Nurse Ponnu, and we then formed pairs to various stations in the MCH clinic, e.g. antenatal care, postnatal and child health, family planning services, Pap smear, specialist clinic (on Mondays and Tuesdays) and Family Medicine Specialist (FMS) on Wednesdays.
There is one medical officer, Dr. Masdalina Azahari in this clinic, and the head of this clinic is Sister Maryam, and head of Staff Nurse, SN How Ah Moi, with 4 nurses trained under basic midwivery, 15 JM (Jururawat masyarakat), 2 drivers, 1 attendant, and 1 PRA (Pembantu Am Rendah).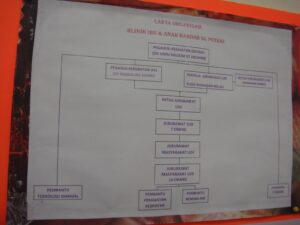 Antenatal care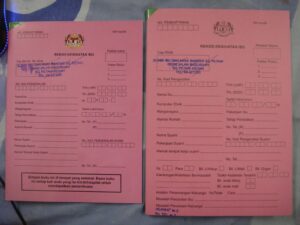 The antenatal books – the one on the left is a smaller version which is kept by the patient and is to be brought to the KKIA during each visit. The one on the right is a bigger book, which is the record retained in the KKIA.
We managed to do physical examination on new cases (e.g. just found out UPT positive), e.g. breast examination, hands, pedal edema, thyroid, and abdominal examination (obstetric grip).
The different colour coding for all antenatal mothers, are white, green, yellow and red.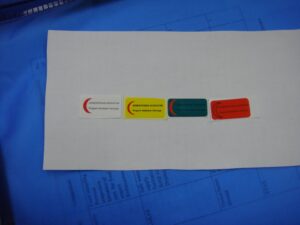 These stickers will be put on the top right corner of the antenatal book. If you happened to see 2 stickers on the top right corner, it is because sometimes postnatally, the mothers might develop some problems and they have to change the coding accordingly.
Under the WHITE code: (case suitable for home delivery – provided trained birth attendant is present)
Gravida 2-5
No previous obstetric problems
No medical conditions like anemia, hypertension, Diabetes, heart diseases, Tuberculosis, Asthma.
No complications in the present pregnancy
Cephalic presentation
Under the GREEN code: (Refer cases to public health nurses)
Maternal age: Primigravida: <> 35 years old and Multipara: 40 years old and above
Gravida 6 and above
Birth interval of less than 2 years or above 7 years
Mothers with special problems, e.g. psychiatric, handicapped, single parent
Height <>
Unsure of dates
Under the YELLOW code: (Refer to doctor at healthcare centre or hospital)
Rhesus negative
Hb <>
Dyspnea on exertion
Urine albumin 1+
Multiple pregnancy
Decreased fetal movement
Obesity >80kg
Drug addiction
Under the RED code: (Immediate hospital admission)
Severe pre-eclampsia
Eclampsia
Antepartum haemorrhage
preterm labour <>
Meconium stained liquor
Cord prolapse
Retained placenta
Postnatal care and child health:
The child is brought to the clinic at 1 month of age for Hepatitis B injection dose 2 and developmental assessment. The nurse will also do general physical examination on the child, e.g. palpate for testis in scrotum, check for BCG scar on the arm etc.. Next the mother is checked for involuted uterus, tenderness and pedal edema. Also observe the general well being of the mother, e.g. signs of pallour/dyspnea on exertion.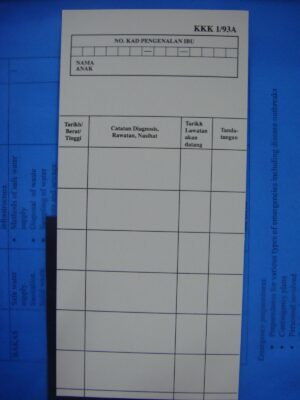 The record card for child health, named KKK 1/93A
In the lab where vaccinations are kept, the few pictures below show the cool box used to keep the vaccines that are taken out from the fridge based on estimation of patients that day.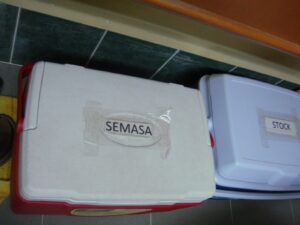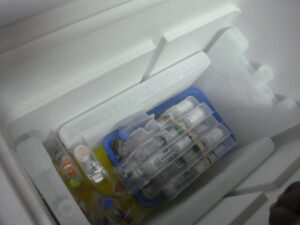 The interior of the cool box (note the ice packs put inside the four walls), and a yellow sponge is put on top of the vaccines, so that the ice pack does not come into direct contact with the vaccines, so that they are kept in their best forms.
Semasa (can be opened anytime), stock (to be opened to fill up the previous box), they also have a separate cool box for BCG.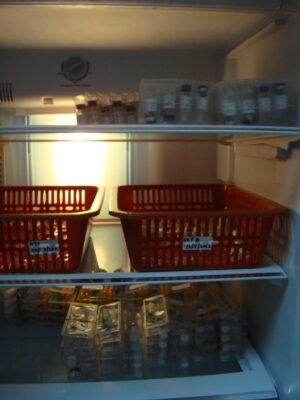 The fridge where vaccines are kept, can only be opened twice a day, and to reset the temperature on Minimax each time before closing.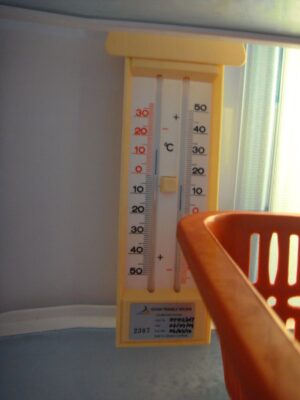 The Minimax which came out for our OSCE once upon a time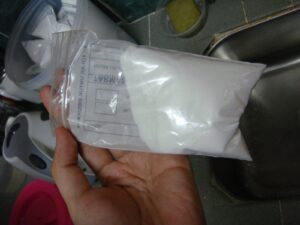 The 75g of sugar used for OGTT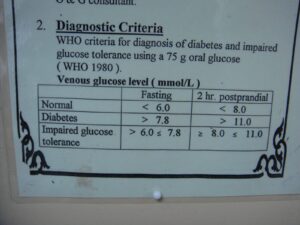 The reference that this clinic follows
Source from aimstkualamuda.blogspot.com
Related Posts: