WEDNESDAY 21ST NOVEMBER 2007
We reported to Klinik Kesihatan Kupang. Jururawat Kesihatan Norolasikhin and Jururawat Kesihatan Hamzah divided us into 2 groups and took us for home visit for postnatal mothers and neonatal jaundice in various villages. Among the villages that we visited were Taman Sri Landak (postnatal 8 days with G6PD deficiency male neonate) and Kampung Seberang Ketil (postnatal 9 days with G6PD deficiency female neonate).
Later, we visited Klinik Desa Kampung Pisang. We helped in the booking process.
Our final visit for the morning session was to Kampung Bendang where we visited a mother in her 20th postnatal day.
In the afternoon, we were given a brief lecture on geriatrics by Dr Zamri.
Home Visit
Home visit is done normally for those patients who are unable to seek medical treatment because transportation is not available in their places. However, home visit normally is done for postnatal mothers and infants with medical illness such as Jaundice, G6PD (Glucose-6-Phosphate Deficiency).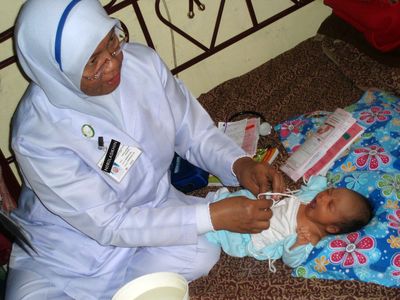 1st photo: Taken in Taman Sri Landak with S/N Norolasikhin checking on a 8 days old neonate who had G6PD. A thorough medical check-up with vital signs was taken for the mother of the child with the help of one of our group member.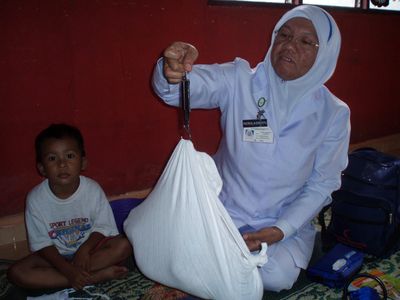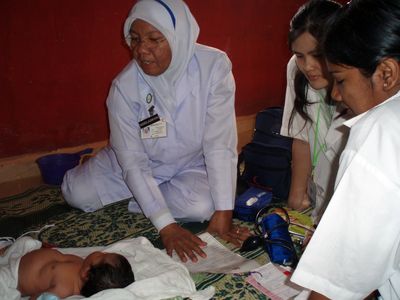 2nd & 3rd photos: Taken in Kampung Seberand Ketil with S/N Norolasikhin weighing the baby followed by a thorough medical examination on the 9 days old neonate. The way of weighing the baby is done during Home Visit only as it is hard for them to carry around the weighing machine during the Home Visit.

4th photo: Taken in Klinik Desa (Community clinic) Kampung Pisang where one of our group member is seen taking blood pressure for a lady who came for follow-up of her pregnancy.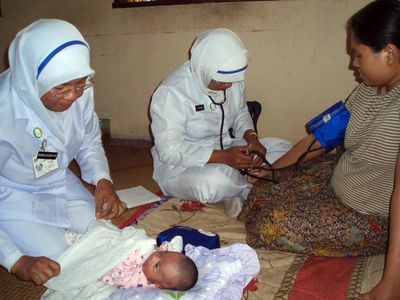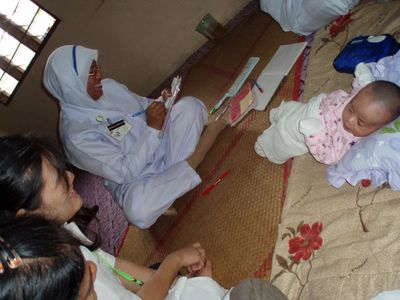 5th & 6th photos: Taken during a home visit in Kampung Bendang where S/N Norolasikhin and S/N Hamzah is seen doing a follow-up for both mother and 20 days old neonate.
By Cheah Boon Eu, Source from aimstdho.blogspot.com
Related Posts: