By Meenakshi Alagappa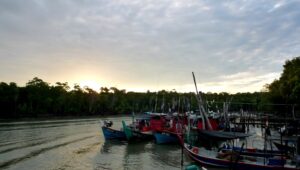 After a long exhausting day yesterday, the three of us (Hema, Sanggeetha & me) passed out by 11 pm on our comfy bed. While most of us had a peaceful sleep, a few actually did social service by feeding the poor mosquitoes. We actually set an alarm at 7 am which wasn't necessary as we had natural alarm clocks. At 6am sharp, the roosters woke us up announcing the dawn and just wouldn't shut up. The cats too did a splendid job of waking us up. That was when I actually realised I was at the kampong. As expected, we were all reluctant to do the opening ceremony of the washroom, but Hema was prepared for the worst. She just warned us not to look into the water tub before bathing.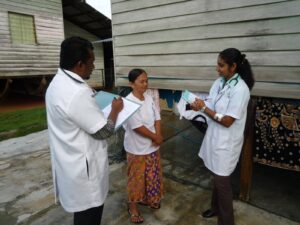 Then, as we were all ready by 7.30 am, the smell of nasi lemak was enough to send our olfactory nerves to high heaven. Our beloved mak cik woke up easily in the morning to prepare our breakfast. The yummylicious breakfast made my day as the saying goes 'all happiness depends upon a leisurely breakfast'. After many servings, we gathered at the hall at 8:15 am and continued our survey to the next 10 houses. The villagers were very welcoming which surprised me as I expected to be chased out of the door. They were extremely patient although we annoyed them with questionnaires and examinations. Not only that, they actually served us with drinks and chips. What an irony! This just shows that even though their lives may not be as lavishly led as that in urban areas but the people there are generous!
Then our group led by Ker Wooi headed off to the long houses. Here, I would like to note one particular house where the occupants were afraid to let us all in as the flooring wasn't stable. I can imagine how worried they would have been seeing the whole gang.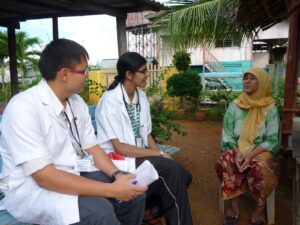 At 12pm, we returned back to the hall where Dr. Kay paid us a visit. A few issues were discussed and settled before we returned home for lunch. And now, this is my favourite part. Just as we were leaving our bags in the room, there was a knock on the door saying, 'lunch is ready'. We were served like queens with crabs and pineapple curry, ayam masak merah, 3 types of fried fish, kangkung belacan and icy cold orange juice. How could I wish for more.
We had a good chat with our family and continued our survey to a few more houses. There were these two little cute kids, Hariz and Farah who actually used Kogil's stethoscope to listen to the cat's heartbeat.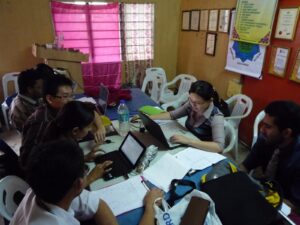 We were done by evening and went to our respective houses again. After dinner, we gathered at 8 pm at the hall to plan our farewell activities. We were shocked when a group of pak cik in sarongs approached us but they were no other than our very own Mr Poobalan, Mr. Kishean, Mr. Jack, Mr. Nelson.:) To get the ball rolling, our event manager, Hemalatha Jotey organised the human bombing. She was totally embarrassed by the loss of her group in the first round itself. Sorry, Hema. After the brainstorm session about the farewell, a few of us went out for supper at Tg Dawai and returned home by 11 pm..That's the end of Day 2 at Kampung Nelayan.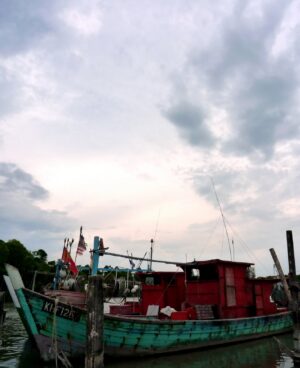 Source: aimstbatch13.blogspot.com
Related Posts: